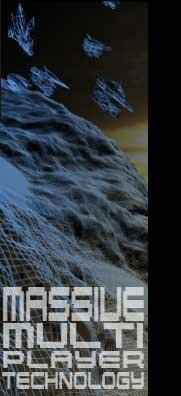 Cybernet Expands OpenSkies Massive Multi-Player Network Engine To Adapt To Multiple Gaming
Linux Port for OpenSkies Now Available; Interface for Mac OS X Operating System Soon To Follow
Ann Arbor, MI - May 20, 2002 - Cybernet Systems, an Ann Arbor-based research and development firm focused on advancing the state of human-machine interaction, today announced the availability of a Linux port for its OpenSkies massive multi-player (MMPG) network engine. OpenSkies enables tens of thousands of players to simultaneously interact in the same online environment and significantly reduces the cost and time typically required for developers to augment existing multi-player games or create new ones. Previously available only for integration into any Windows game system, the port extends OpenSkies' availability to game developers designing on the Linux platform. This initial expansion of OpenSkies' reach will soon be followed by an extension into the Mac OS X operating environment as Cybernet continues its overall effort to forward the massive multi-player online gaming industry.
"Our goal is to make OpenSkies' full massive multi-player capabilities available to developers working on any PC platform or console," said Charles Cohen, Cybernet's vice president of research and development. "Online gaming is already huge, and consumers are now demanding the ability to access the Internet through their PS2s and other consoles for online game playing. Completion of the Linux port is a first step in achieving our goal for multi-platform compatibility. As a next step, Cybernet is working to port OpenSkies to the Mac OS X operating environment."
Cybernet's OpenSkies MMPG architecture delivers real-time intelligent routing across a distributed network server system. Game clients connect to distributed servers, which act as traffic cops directing real-time data requests across the backbone and minimizing redundancy. Sophisticated culling rules further lower the bandwidth load by 25 to 90 percent. The result is a high-performance, low cost solution for easily implementing the MMPG architecture into online games and simulations.
OpenSkies Game Development Module to Debut
In June, game developers will have the opportunity to test drive components of Cybernet's new OpenSkies game development module, which is designed to provide developers with all the tools they need to create breakthrough massive multi-player games. Initial components, each run on the OpenSkies network engine, will include the following:
Objects –The ability to place potentially dynamic (moving) 3D objects, which can be articulated and support multi-texturing, animation, fur, sound and collision, within a simulated environment.

Terrain – A whole world terrain rendering system that randomly generates terrestrial elements (sky, clouds, night/day and water) and/or can read it from a reader module.

Starfield –The ability to implement an earth-centric starfield using the actual catalog of stars visible to the naked eye.

Planetary Dynamics – The ability to implement a planetary dynamics model that allows the developer to create stars, planets, moons, and a Keplerian physics model that ties them together.

Animation Editor – The ability to create animations for articulated objects.

For further information about Cybernet's OpenSkies massive multi-player networking technology or about licensing requirements, contact Cybernet directly at , or visit the company's web site at www.cybernet.com.
About Cybernet Systems
Cybernet Systems Corp. is a profitable, technology-based company focused on developing products that combine software and Internet intelligence with human-machine interaction. Cybernet has successfully leveraged its wealth of intellectual property to bring force feedback technology to market in the form of game controllers and joysticks, introduced a line of Linux-based Internet appliance software, and launched a PC game enhancement software product. The company continues to innovate in the areas of Internet medical systems, large-scale distributed network training and gaming and gesture control interface technology. Additional information on Cybernet Systems is available on the web at www.cybernet.com.

Download this Press Release in Adobe PDF format
All OpenSkies materials are copyright, Cybernet Systems Corp.
Copyright Notice and License


OpenSkies Main Site - Head back to the front of OpenSkies, if you got here from a press link.